Fuck It (I Don't Want You Back)

Whoa Oh oh
Ooh hooh
No no no

::Verse 1::
See I don't know why
I loved you so much
I even gave you all my trust
I told you, I loved you
Now that's all down the drain
You put me through pain
I wanna let you know
Just how I feel

::Chorus::
Fuck what I said, it don't mean shit now
Fuck the presents, might as well throw them out
Fuck all those kisses, it didn't mean jack
Fuck you, you ho, I don't want you back

::Verse 2::
You thought, you could
Keep this shit from me
You burnt bitch, I heard your story
You played me, you even gave him head
Now you're asking for me back
It's just another act
Go elsewhere cause you're done with me

(Chorus)

::Verse 3::
You questioned, If I cared
You could ask anyone
I even said you are my great one
Now it's...o-over
But I do admit I'm sad
It hurts real bad
I can't sweat that cause I loved a ho

(Chorus)

Oh oh Oh oh
Oh hun yeah
Oh oh Oh oh
Oh hun yeah
Oh oh Oh oh
Oh hun yeah
Oh oh Oh oh
Oh hun yeah
Fork
time
was at 3:37 PM.
Friday, February 25, 2005
Pahit akan manis akhirnya - Ukays

Puas aku mencuba
Menepis semua dugaan
Malah ada yang anggap
Aku lupa daratan
Peritnya aku lalui
Kemelut yang panjang
Hingga ke saat ini
Ku tidak ketentuan

Wanita manakah
Sanggup berkongsikan kasih
Walau madu bagiku
Tapi hempedu bagimu
Kekadang harus terima
Suratan darinya
Tidak salah kalau kasih
Dibahagi seadilnya

Telah....
Ku fikir sedalamnya
Untuk membuat keputusan
Harus aku berterus terang
Jujur dalam perbuatan

Dan...
Jatuh airmataku
Mendengar pengakuan ikhlasmu
Sanggup bersaudarakan dia
Walau hakikatnya hatimu
Terluka...

Moga suatu hari
Sembuhlah luka
Dan kembali ceria
Walau hati aku ini
Milik..
Engkau dan dia
Fork
time
was at 11:29 PM.
Sunday, February 13, 2005
Someone has been bugging me to update my blog so, here you are...the latest and most anticipated edition of Anuar's incoherent ramblings. Er...riight..
Well,woke up at 11 juz now...was in a daze...Then realized that today is book in day,every NS man's 'favourite' day. My shin is still bruised from the kick I received from Dayat when we were sparring on Friday. Thanks ah Bro.You can't beat me,so the next best thing you can do is to at least injure me.Thanks.
Went out with the Silat people y'day..Thought can play pool..but they decided to lepak at esplanade instead..Ate at Burger King..ate a lot actually..Until some of them decided to tease me about my gradually bulging stomach..You all just wait and see...The next time I book out,I'll show the washboard abs I will train hard for..muahahaha
Anyway took a lot of photos..the pics below are for your viewing pleasure..Now u can take a fork..and stick it into my fat stomach.
I'm done.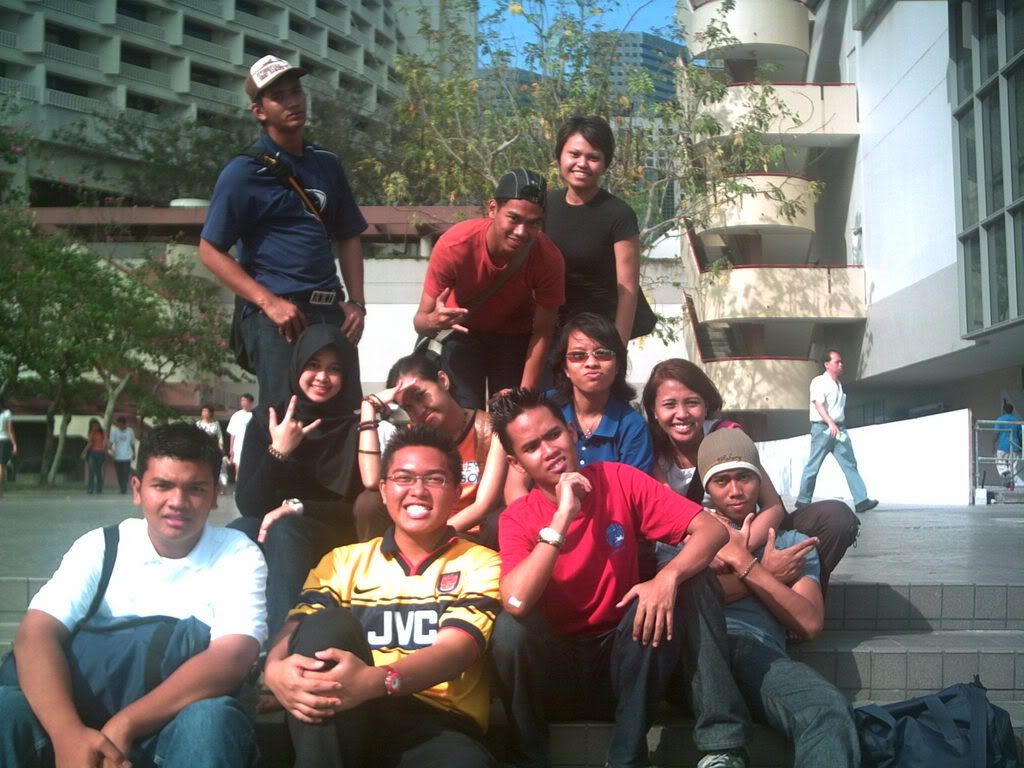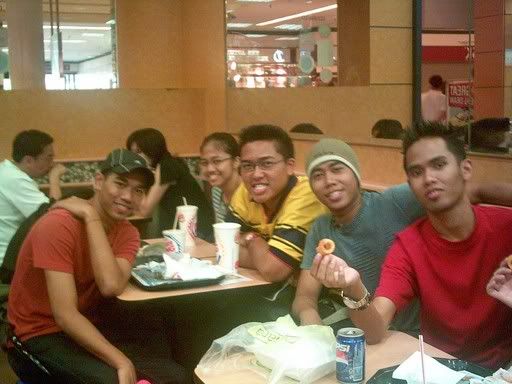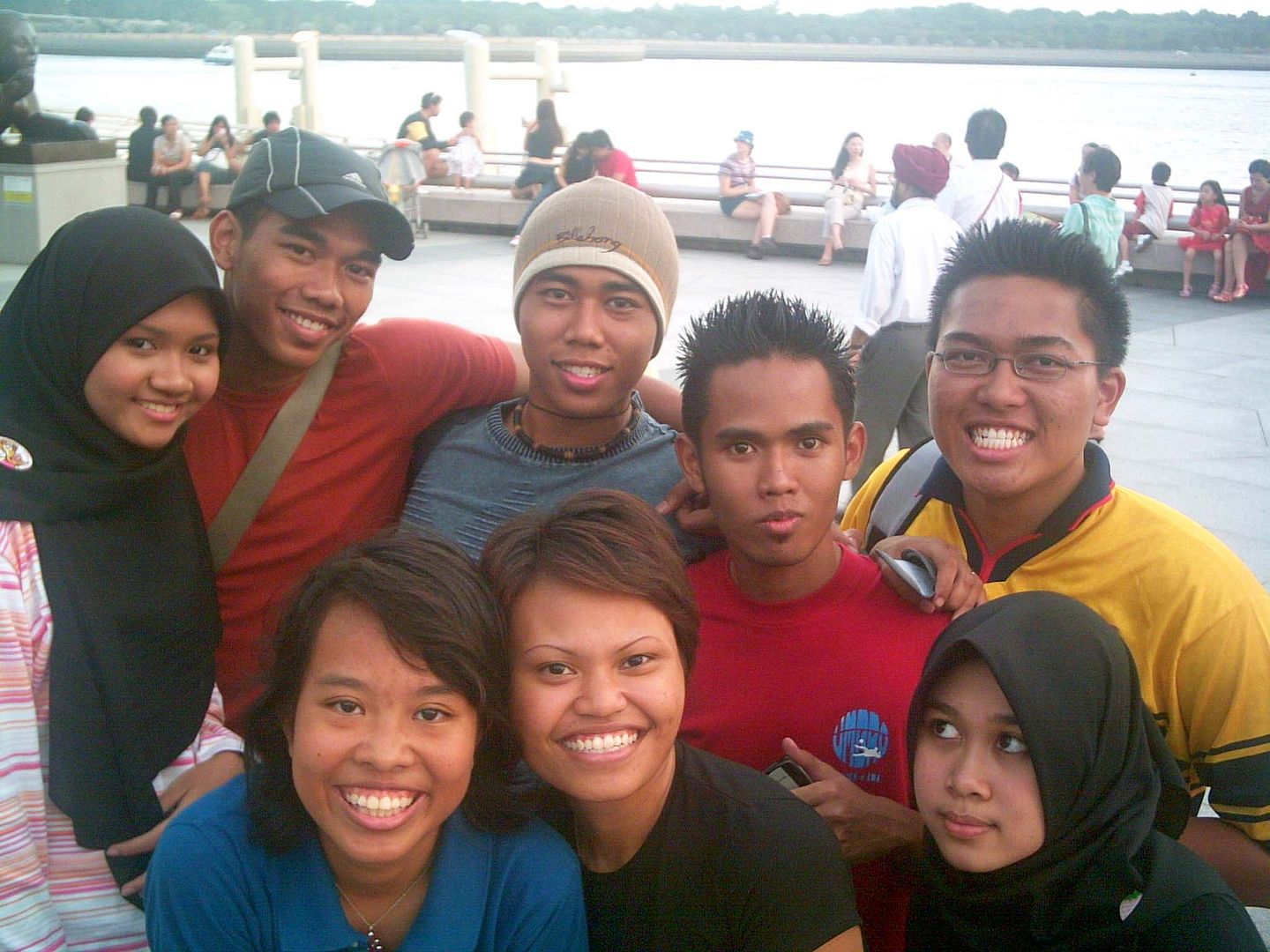 Fork
time
was at 11:31 AM.
Sunday, December 26, 2004
Di sana menanti di sini menunggu - Ukays
Seumur hidup aku
Ini yang pertama
Pintu hatiku diketuk oleh dua wanita
Punyai ciri selama ini ku cari
Berbeza wajah ayunya tetap asli
Kalau ku pilih di sini
Apa kata disana
Kalau ku pilih disana
Di sini akan terluka
Perlukah aku pilih keduanya
Bahagi kasih seadil adilnya
Sungguh ku merasa resah
Untuk menilai sesuatu yang indah
Namun ku ada pepatah
Yang aku gubah
Disana hanyalah menanti
Sampai bila pun ku tak pasti
Bertanya khabar melalui tinta
Jarang sekali bertemu muka
Namun ku tahu dia setia
Dan di sini tetap menunggu
Berada jelas di mataku
Kasih tak puak terhadap aku
Sanggup menunggu kata putusku
Sayang ketabahanmu, menawanku
Ku terima satu nota
Ringkas tulisannya
Dia sedia undur diri
Dan memaafkan ku
Katanya anggap ini satu mimpi
Yang datang sekadar
Untuk menguji...
Fork
time
was at 1:14 PM.
Saturday, December 18, 2004
Sejenak aku
Merenung kisah silam
Biarlah ku menanggung
Apa ada di dalam
Berakhir sudah
Epilog cinta kita
Permata hati
Membawa diri

Berat sungguh bagi diri ku
Mana arah dan mana tuju
Segala-gala tak menentu
Di selubung rindu

Walau pahit ku telan sahaja
Walau di dalam merasainya
Apa dibuat serba tak kena
Pastinya kecewa...

Aku terus melangkah pergi
Bertemankan sekeping hati
Dipenuhi ranjau berduri
Sakit pedihnya tak terperi
Di satu sudut ku terdampar
Keluh lesu tak ku sedar
Semua kerana peristiwa itu

Termanggu ku di perantauan
Tersesat ku di persimpangan
Yang nyata kita berjauhan
Buat selama-lamanya
Putus kasih, putus segala
Sering kali kau ungkapkan
Ku turuti apa yang dia hendaki
Biarlah ku menanggungnya
Sendiri...

Fork
time
was at 11:28 PM.
Hey i'm back.

New haircut.New skin colour. Same old charm. AHarkz.
Man, I really missed my hair. It's like, when you look in the mirror, and you see something that's been a part of you for so long, not there anymore. Feels weird. Haiz...just one of the sacrifices I have to do to defend my country. Wakaka

May sound like a cliche,but army life is tough. You are always rushing or being rushed, no time to even go to the toilet at times. And the training. Imagine the usual Silat training session. Well here its triple the intensity and 5 times as long.

But the food is GOOD. Serious. I always look forward to breakfast, lunch and dinner. Oh yah, and the night snack as well. Kat sini kita makan macam nak rak seh. Bulan puasa ni training goes on as usual. The only difference is that I'm fasting. Can take it lah. Unless I really feel like dying already. If not, a little thirst or hunger won't affect me.

My bunk mates are all Chinese, which is fine by me. They are fun lah. Never fail to make me laugh. And we stick by the saying "one for all,all for one".

My passing out is on the 3rd of December. Can't wait for that.

Of course i miss you all.

I miss Sri.

I miss Yat.

I miss my bestest friend.

I miss my family.

I miss the Silat people.

I miss my Coffee Bean mates.

...

...

...

Stick a fork in me.

I'm Done.

Fork
time
was at 1:06 PM.
Monday, September 20, 2004
The Silat BBQ was great.I totally enjoyed myself.How can I not enjoy myself when there's FOOD galore?And the laughter that I shared with my silat mates?Darling was there too...
However,I lost my handphone. :-( I had left it behind in the cab i took to pit No. 77.Now I'm so angry at myself for being so careless,and,in a certain way,unrepentant cause I had lost my previous hp in a taxi too just 3 months before this.
Luckily,the BBQ did a lot to cheer me up.We played beach soccer,Taiti,"murderer",7up,sang out of tune songs and basically just horsing around with one another.Hopefully this BBQ will make us bond as a group.And this will be the last time I get to hang out with the Silat guys cause I'm going overseas tomorrow and then when I come back,It's NS time for me.Haiz...

Looking back,NYP silat had not just become a hobby for me.Or a pastime.It had developed into something more,it's like a burning passion within me.I look forward to waking up on Saturday mornings to go for Silat training.In my 3rd year,we silat guys and girls would chill out together,having a laugh and catching up with one another.I had so many silat moments I would have great difficulty erasing from my mind.I remember the Rainbow of Creation,the first performance i Had for NYP silat;I remember the first IVP when NYP were champions;I remember the time,at the last IVP, we went to the pasar malam,got us something to eat and sat by the pavement to have our meals as people were staring at us;I remember the day I cried when I wasn't selected for the 1st IVP;I remember the goosebumps breaking out all over my body when I heard my name being chanted as I prepared for my match. And now this BBQ has added another unforgettable chapter in my life.Thanks guys and girls,for making my NYP silat experience an enjoyable one.But all good things must come to an end,and the time has come for me.


Perhaps for the last time...

Stick a fork in me.

Hard.

Cause I am soooo Done.

Fork
time
was at 5:32 PM.
Thursday, September 02, 2004
I am now in the library as I'm typing this. Why, u may ask. Well my computer at home is so cocked up rite now I can't post anything when I have so many things to say! What's more frustrating was that all the other functions of my blog I can use except publishing new posts. So here I am now...

So many things has happened since the last time I posted that I do not know where to start.So I'll just write whatever comes to my mind right now.
My birthday This year was one of the most memorable I've ever had. A group of us pesilats went to town to kinda "celebrate" it. Yat and Nana gave me a really wonderful surprise when they turned up at the last minute with my birthday cake. It's the manner in which they surprised me which moved me.Carefully planned and thought out. Thanks eh Dik.And Nana.
ANd all who came down that day,whether deliberately or accidentally(u noe,those who went with us to eat but didn't noe it was my b'day)

Azlina and Donna, thanks for ur present.I'm wearing it right now,and I think I'll be wearing it for a long time to come.Thanks ladies...

Erma..!I am really touched that you dedicated one whole post for me.I thought you had forgotten bout it,but I was proven wrong.You are so sweet girl. Thanks yah,hope our friendship lasts forever.

Dik,also thanks for your testi on me.I can't believe how accurate you are about me. The only thing is that I am not much much much more handsome than you, just more handsome than you.Haha! Main2 je,jgn amik hati...Thanks Bro...

Y'day a few of us pesilats,namely me,Azsimah,Sri,Radiyah,Izad,Arafah and Rizal(Di's bf) went to town to watch Anacondas. 13 goin on 30 was sold out,so we settled on that instead.Thrilling movie,though we could do with less screaming and commenting. Then we met Zainal,took some pictures and settled down at BK to lepak before goin home.It had been a fun,fun day.Too bad Yat and Haz last minute can't make it.Another time,guys...

Damn,I have to post this now before my time expires and I have to log out. They should know that I'm blogging.Ah well....

Stick a fork in me.

I'm Done.

Fork
time
was at 1:02 PM.
I was surfing my friends' blogs when I came across this picture of me during my match in the Silat IVP,courtesy of Mahirah. Its as if it was taken by a professional photographer. Haha.
Fork
time
was at 11:50 PM.
i know,i know, i haven't updated in like ages but have been really busy with stuff.

My silat competition was a disappointment for one thing...A year of hard training went down the drain in 6 minutes..felt so down after i lost..due to lack of stamina,which i just don't understand cos i honestly believe I am one of the fitter guys in Silat. But well, maybe there is a blessing in disguise for this..

Right now I am under attachment from my school to DFS at Airport warehouse. I used to be attached at ScottsWalk Galleria doing sales but the management transferred me to Airport because I,in their own words, lack selling aggressiveness. When your customers are either Chinese,Japanese or Korean who speak no English(except "toilet"),how can they expect me to sell when I can't communicate with them? They think mastering a language takes a few weeks.Come on...

I now start work at 8.30am and end work at 5.15pm and my only off day is on a weekday. I'm happier here except that I now have to wake up 1 hour earlier(6.30) and the fact that I have no weekends off.And I'm earning just $550 per month for what I would call labour work(you know,carrying stuff,stacking them on shelves).

Luckily I still have my Coffee Bean job.After work@DFS I rush down to Bukit Batok to work there, usually from 7pm to 12am, and on Tue,Thur and Sun. Tiring,yes, but considering the fact that I am supporting myself(food,clothes,hp bill,transport) and paying the Internet bill(cos Dayat needs it), it is something I have to live with. And I also have to start saving some money now for my future.

Klah,going off to sleep now.Working tomoro. DFS AND Coffee Bean. So I must get all the sleep I could..

Now stick a fork in me.

I'm sleepy.
Fork
time
was at 9:51 PM.